Planning a wedding reception can be a huge challenge. With so many different moving parts and things to think about at a reception, combined with the other elements of a wedding, important elements of a wedding reception can be forgotten. Here are ten things to remember when planning a wedding reception.
1. Consider Your Venue's Decor
As soon as possible, visit your reception hall and make note of what's already there. Think about lighting, entryways, decorations, and colors. You may not like the look of some of these features, so make a list of the items you'd use or items you'd want to conceal with decoration. All of these elements must be considered if you want a visually cohesive reception.
2. Create A Rough Floorplan
The layout of your floor plan is important. You want to have enough space between tables to get around. Think about where everything will go on the big day, like guest tables, buffet tables, dance floor, DJ booth or stage, and take measurements. This will ensure your venue won't feel claustrophobic. You can also check with your venue to see if they have sample layouts that you can use and modify to fit your needs so that space won't be an issue.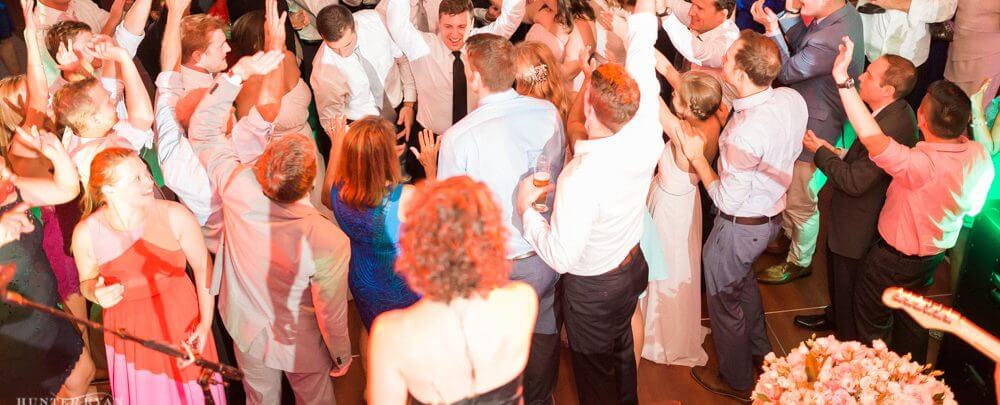 3. Set Up Your Stage And Equipment In Advance
Whether you are using a DJ or a band for your wedding entertainment, it is important that you are prepared for them in advance. Be certain that you have everything ready to go, including a stage and power for the performers. Many venues will offer a 'power distro' for the band. It may cost a little money, but it will make the chance of a power failure very low. Also ask the band how much room they'll need for their equipment so that it can sit on stage with them or nearby. If the band is energetic, a small stage can lead to a very lackluster performance for your guests. With great power and stage room, the band can focus on making sure the performance goes smoothly and everything stays on schedule.
4. Plan For Toasts
At many weddings, toasts are given to pay tribute to the newlywed couple. If your reception will include toasts, make sure you know who is going to be speaking and have a designated time for when toasts will occur. This will help prevent unplanned speeches from eating up time at the reception. You can also schedule your toasts to happen at the rehearsal dinner instead so that your reception will be all about celebrating!
5. Think About Drinks
Cocktails are a staple of any wedding reception. Whether you are planning a wedding reception with an open bar or cash bar, think about your drink selection. There is no need for a full bar: a few types of wine, a few types of beer, and a few types of spirits are all you need. You could even opt to create one or two specialty cocktails and limit your bar to those. Also, don't forget about non-alcoholic drinks!
6. Provide Little Comforts
Small touches like having a basket of sandals for women if they want to abandon their heels and hit the dance floor, or a place to get paper towels or hand sanitizer will go a long way in showing guests that you care. This is especially important if you are planning a wedding reception that will take place outdoors. If children will be at the reception, be sure that they have entertainment as well, such as crayons or toys for their age group.
7. Remember To Say Thanks
Showing a token of appreciation to your wedding guests is very important. Whether you send cards or let guests take home their centerpiece, make sure that you convey your thanks to people that joined you on your special day.
8. Secure Power For The Entertainment
Bands and DJs both need a power source to use during their performance. Make sure to secure this power source in advance. This is particularly crucial if you are having an outdoor reception, where power may be limited. If you have a generator for the band, make sure it is specifically calibrated to handle musical equipment. Many generators are not designed for this function and will cause musical equipment to stop working in the middle of your reception. If at all possible, have wall power for musicians, as it is much more reliable.
9. Be Conscious Of Time
Although your wedding reception is a special time for you and your family, many guests will be tired toward the end of the reception. Many planners suggest keeping your reception to four or five hours. This limitation will also save you money. It may also be a good idea to have a shuttle service or keep a cab service's contact information on hand in case any of your guests have a little too much fun.
10. Keep Your Entertainment In The Same Room
No matter what you have at your wedding, it is most important that everything is kept in the same room. The band or DJ, food, bar, photography booth, and other attractions need to be in the same room. This prevents guests from dispersing everywhere which leads to a very dull dancefloor and low energy at the dancefloor. Keeping your guests in one area promotes excitement, interaction and energy. If you have music in one room, a bar in another, a photo booth in another, desserts and candy in another and cigar rolling outside, the energy and excitement will disperse very quickly. Many fads that claim to create a 'different' feel throughout the reception's different areas often look great on paper but fail in reality. If you have 150 people split up into different areas, you end up having something that feels more like five birthday parties than one spectacular wedding.
Also, don't forget to hire a band or DJ you love and trust to perform at your wedding. Contact Wiley Entertainment today for a free consultation to see if our band or DJ would be the right fit for you.
Live entertainment with no limits.
When you choose Wiley Entertainment, you're not just getting a set of songs. You're getting an experience that will make your event spectacular and unforgettable.
Get a Free Consultation