Outdoor and beach weddings are very popular in the Naples and South Florida area. With the sunny, breezy weather, beautiful sunsets and picturesque venues, this area is a lovely location for weddings.
While many venues do have indoor and possible outdoor dance areas available, brides should also not be afraid of the idea of renting a dance floor! For venues with sand, grass, or other difficult surfaces, a renting a dance floor and customizing it to your wedding style can be a great addition to any outdoor (or indoor) wedding. Below are a few tips to keep in mind when renting a dance floor for your wedding.
Where will the dance floor go?
The first decision you need to make is where will the dance floor be placed in your reception area. Will it be in the center or a square surface in a corner? Will it be on sand or grass and in a covered or uncovered area?
Keep in mind that many dance floors need to be setup on the flattest surface possible. If it is on grass or sand, then there should be no bumps or hills. Sometimes if this is unavoidable, then a subfloor or may be needed. Consulting with a rental company before making any major venue decisions is always a good idea, just to be safe.
How big a dance floor do I need?
Next you need to decide how large of a dance floor area to rent. Portable dance floors usually come in sections that are 4'x4′ or 3'x3′. So how many sections should you rent?
A typical wedding with 100-150 guests should be approx 24'x24'.
The industry rule of thumb is that, at the most, about 50% of your guests will be dancing at any given time. If the dance floor is too large, it will always look empty and uninviting. If it is too small, guests will not be comfortable and opt to stay seated or stand by the bar.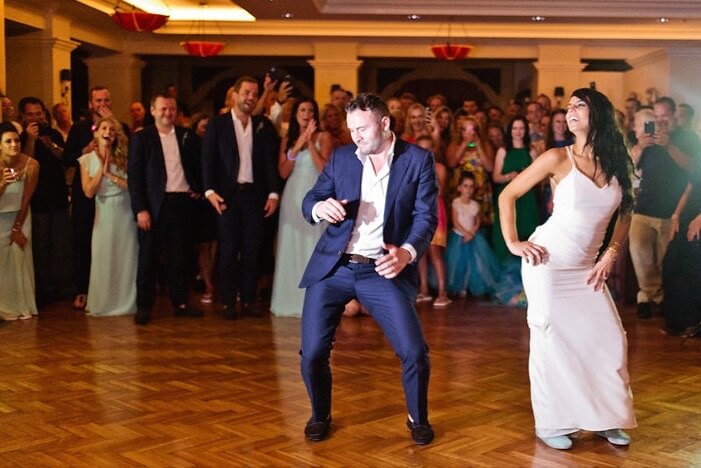 What is the price of renting a dance floor?
The next big deciding factor in renting a dance floor is probably the price. This can vary dramatically depending on the type of flooring, the size, and any customization requested. Types of dance flooring can include: wood, oak planks, marble, vinyl or a lighted floor. Each section can range from $5 to $35 or more. After you have decided where and how big your dance floor should be, you can request quotes from rental companies on flooring options.
When asking for these quotes, make sure to inquire what exactly is included in the price. Floor delivery, installation, breakdown and pick-up should typically be included. Also, if you are setting up the dance floor under an outdoor tent, be aware that several companies will only set up a floor under tents that they also set up themselves.
Dance floor over a pool?
If you are considering putting a dance floor near a pool deck area, why not put the floor over the pool itself! Some specialty outdoor rental companies can cover pools with acrylic flooring, allowing you and your guests to dance on top. With the lighting from the pool illuminated underneath your dancing feet, this type of floor could be the standout decoration piece of your wedding.
Lighting projection on your dance floor.
Another great option for spicing up your dance floor rental is using lighting projections. Rented dance flooring pieces usually snap or screw together to form a smooth surface, so you can use custom lighting options just like you would a regular floor. Whether it's a projected pattern, monogram, wording, or anything you can dream up — creative lighting on the dance floor is a fun option.
We hope these wedding dance floor rental tips have helped you in your wedding planning process! After choosing your ideal venue and dance floor, don't forget about hiring the best Naples wedding band to keep your guests dancing!
Live entertainment with no limits.
When you choose Wiley Entertainment, you're not just getting a set of songs. You're getting an experience that will make your event spectacular and unforgettable.
Get a Free Consultation