For every bride, there are the obvious details you know a lot about and obsess over. Then then are the less common wedding planning topics and specifics that can sometimes be overlooked. You know how to find an amazing dress, can find a great caterer by tasting around, but do you know what to look for in an awesome wedding band?
The details of your wedding music and live entertainment can sometimes be overlooked, simply because bride aren't sure what questions to ask and what to watch out for. Below are a few specific questions to ask bands when you are deciding who to choose.
Do they have video samples of live performances?
A great way to vet different bands is to request videos of live performances. Look around on the band's website and see if they have any videos posted. If so, then that means they are confident in their work and know that showing their live performances will influence a brides decision in a positive way. If they do not have live videos, they are hiding something. In this day and age, anyone can post a live video for free in a few minutes. Also, make sure to take a look at the wedding guests in each video. Is the dance floor packed with happy, dancing guests? Is the band interacting with the crowd? These are great details to look for when looking for the best Naples wedding band.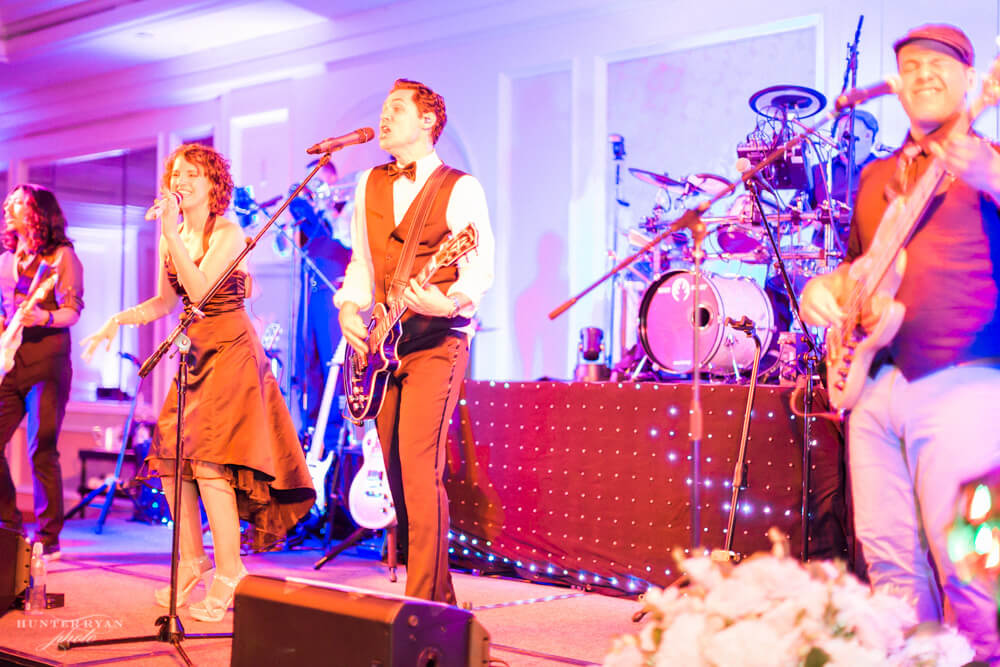 Are the band members always the same?
This is a question that many brides wouldn't even realize they should ask, and usually just assume the answer would be yes. However, asking this question can rule out the "fake" bands who simply operate under a band name, but constantly changes members.
Why does changing band members make a difference? Because a band who doesn't frequently play together will not sound nearly as good as a band who has played hundreds of events together and knows how to play off each other and the crowd. Imagine your favorite sports team switching out 50-90% of the players every few months. That team would be a loser.
How much experience do they have?
As a follow-up to the previous question, don't be afraid to find out how long they have been performing together. How many weddings have they played? What genres are they familiar with playing? Are they willing to learn a new song for you first dance? Going to a reliable wedding review site like Wedding Wire will be a big help. If a band has very few reviews, they are most likely an inexperienced band, or a band that doesn't want their reviews to be public.
Can you go watch a live performance?
By far the best way to decide if a band is the right fit for your wedding is to see them live! This isn't an option for every band you might be considering, but it is always worth asking. Some bands, like Wiley Entertainment's "None Other," allow potential brides to come see part of a live event where they are performing. This is your chance to see and hear firsthand how the band performs, erasing any doubts you might have.
What is the price and what is included?
As with many things in wedding planning, the price can change dramatically depending on your choices and what is included. Are you looking for the standard six piece band or do you want a large full twelve piece band for your reception? Does the band you're looking into have quality sound system? Do they bring professional lighting that's classy and exciting or a couple unimpressive carnival lights?
These are all questions to ask before booking your wedding band. As the old saying goes, you get what you pay for, and this couldn't be more true when is comes to music entertainment. Our advice — spend a little extra on quality music and entertainment for you reception. People won't remember every little detail, but they'll definitely remember singing along and dancing the night away.
If you are looking for the best wedding band in Naples, then contact Wiley Entertainment today. We'd love for you to come watch us perform live to see if we're a fit for your wedding!
Live entertainment with no limits.
When you choose Wiley Entertainment, you're not just getting a set of songs. You're getting an experience that will make your event spectacular and unforgettable.
Get a Free Consultation